8 Question To Ask For Teaching English Abroad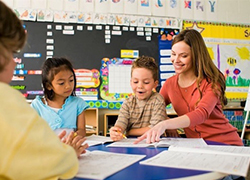 For many of us, travelling is fascinating. Moving to another country with an opportunity to teach is even more dreamy. Teaching English abroad is trending across the globe.
If this is what you truly want, so be it!
The wildest thing about teaching English abroad is – anyone can pursue this career. All you need is to be a graduate, fluent in English with a TEFL certificate. Although this is completely a personal choice, if you are dreaming of becoming a teacher for long-term and you love to travel/moving abroad – Teaching English abroad is your jam!

Teach English abroad: The positive side –
Lucrative international opportunities
Travel the world
Gain new teaching experience in the international platform
Get to experience different cultures
Fulfill your dream of travelling the world while changing others' lives
Whether you are a fresher or mid-career changer or already a working teacher wanting to expand, this can totally design a fulfilling career for you. Individuals coming from various academic or professional backgrounds are making their ways to teach & travel. So why not you!
1. What is your ideal first step!
Teaching English abroad sure sounds adventurous, but there are few things you need to evaluate before you make a career leap. Knowing the know-how is vital. To begin with, a little bit of market research is important. The market for English teachers in abroad is expanding. Europe, Latin America, Middle-east, Gulf countries are known to be top recruiters for ESL/EFL teachers. In addition to this, Asian countries like China, Thailand, Malaysia, Vietnam, Cambodia, and Taiwan are also making their mark at the top of the list for English language learners.
Not to mention, weigh your commitment to the process. It could be pursuing the TEFL course, waiting for landing the job, or even going through the visa process. Especially if you are already a working professional, think through how much time and patience can you deliver with your busy life. It is obvious that there cannot be any timeline within which every checkbox is going to be checked. Get real with yourself and curve the necessary time to the whole process.
2. What are your preferred locations?
Now that you know the hot spots for teaching English abroad, figure out where you want to go. The biggest reason to explore this question way before other details are the criterion for essential requirements sometimes varies from place to place.

Sounds exciting? So, are you all set to teach English abroad?

Let's integrate a few FAQs for you –
3. What will I need to teach English abroad?
While the recruiter may have varied requirements, basic such as your qualifications to be a prospective employer remains similar. Foremost, individuals have to be a graduate, second, 120 hour TEFL/TESOL certificate. Your TEFL certificate is going to be your license to teach English abroad. Keep in mind to pursue a globally recognized course.

The truth is, whether you have previous teaching experience or not, teaching skills come first. The whole idea of you teaching in a foreign land is your ability to do your job. In alignment with that, your confidence to hold meaningful learning space for your learners is your priority.
4. How much money can make while I teach abroad?
The opportunities are lucrative, but wondering how is the pay! Salaries of ESL teachers do vary from country to country, for that matter recruiter to recruiter. Oftentimes, this could even vary based on experience and qualification.

For starters –

TEFL teachers in China can make from 1500 to 2000 dollars, in Japan this goes around 2000 to 2700 dollars on average. It ranges from 1455 to 3900 euro in northern Europe and 200 to 460 euro in the western region, whereas in Asia, entry-level teachers can 650 to 2800 euro at starting. And for America, the central and southern region offers around 500 to 950 euros.

Many vacancies may even offer additional perks such as accommodation, health insurance, and other lucrative packages. Apart from Asian countries, Middle East countries are known to highest payers. It all sums down to your standard of living and your preferred location.
5. How can I land my teaching job?
Three things must be prioritized, one teaching skill, this includes getting cosy with modern teaching methodologies and techniques, second, focus on your English language skill, and third, sell yourself – make your resume impactful, add a cover letter and reference letter (if possible) while applying for jobs. Also, prepare an introductory video to attach with the application. A short introductory video – where you demonstrate your language and communication skill while briefing a little bit about yourself, this is going to make all the difference.

Let's say you landed a job for yourself, so now what?
6. What about the visa process?
In most cases, the recruiter supports helps you in the visa process. And you only need to take care of the documentation part in your country. How the visa process works and what are the requirement usually depends on the particular country.
7. Do I need to learn the local language?
Not necessarily. To make it more specific, you do not need to learn the language of your preferred location formally. It is completely your choice. Moreover, adapting to a new culture is personal. How you are going to blend in with a new environment, whether you are planning to live in that country permanently. It's all very much an individual choice.
8. Do I need to pay tax?
The answer is mostly a YES. For example, schools in South Korea deduct around 3% to 5% from salary for taxation purposes. However, the first two years are exempted considering individuals submit their residency certificate. In Thailand, you need to pay tax around 5% to 35%, if you are a resident there for 180 days or more. Similarly, in Spain, if you stay there for 183 days or more you need to pay tax on a scale of 19% to 45%. UAE, Saudi Arabia, and Kuwait are tax-free teaching destinations.
Your takeaway
The opportunities to teach in a foreign land with the right qualification are plenty. All you need to do is know the technical details to sort out your teaching opportunities. This is going to help you out to achieve your goal with ease. By combining your strategic approach with true intentions, you can land your TEFL job!