Asian College of Teachers - Academic Body
Asian College of Teachers' Academic Board is comprised of accomplished and experienced teaching professionals from diverse backgrounds as Associate Academic Directors who not only lend their expertise in all academic matters but also assure academic integrity and high quality. The Academic Board is aligned with the institutional mission, and plays a significant role in bringing new developments in a range of academic areas.
Associate Academic Directors comprising of the Academic Board are as follows :-
Dr Margaret Davitt Maughan
Associate Director - Curriculum and Instructions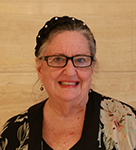 Dr Margaret Davitt Maughan is a Senior Educator with Ed.D. Leadership, from the University of San Francisco and 35 years of experience in classrooms, curriculum development and interdisciplinary studies. She has the expertise in instructional organization and the ability to make the subject useful. She has taught varied courses over the course of her long teaching career like Curriculum and Instruction for Secondary Schools, Historical and Social Foundations, Educational Psychology for Secondary Teachers, Physical Education, Curriculum and Methods for Elementary Social Studies Teachers, Contemporary Educational Issues, Diversity in the Classroom, Ethics and Leadership, Philosophy of Education, Organizational Management.

As a teacher she has always put emphasis on student-centered learning and creative implementation of curriculum and methodology. With a deep understanding of current theory and practice, she has always been open to contemporary programs of revitalization in teaching. She has always been into facilitating quality teaching and has been conferred with several professional honors, scholarships and grants.

Dr Maughan has also been into academic research and her dissertation topic was "An investigation of the relationship between espoused values, shared assumptions, and specific demographic factors among faculty in selected secondary schools". She also has several professional presentations and publications to her credit.
Mr Joseph David Thyparambil
Associate Director - UAE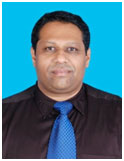 Mr Joseph David Thyparambil (BA in Education with Certificate in Teaching English as Foreign Language TEFL) has been a passionate educator whose teaching journey has been very fulfilling as it took him to many different countries where he shared and disseminated knowledge extending learning and exploring more. Presently based in Al Ain, United Arab Emirates as a Chief Academic Officer with Creative Educational Services. He has had an extensive experience as a teaching professional within Academia in not only teaching but administration, researching, designing curriculum, liaising and coordinating teachers training and administrative training, conducting numerous workshops and being involved in several P R activities. He has also been the recipient of Best Principal's Award, 2014, endowed by Students Development Society, India and is on the Advisory Board of Global Aero Sports and STEM Trainers.
Ms. Mala Dasgupta
Associate Director - Teaching and Development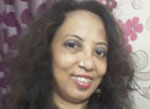 Ms. Mala Dasgupta(MA, BEd) has worked as a teacher and examiner for 25 years with a commitment to high quality teaching and pedagogical practices. Over the years, she has served as an English teacher (classes VII to XII) with an ICSE/ISC school and as an examiner with several professional institutions like SUMMIT and PATHFINDER and Engineering College under WBUT. She is also proficient in setting curriculum,syllabus,study material,students' time table, teachers' timetable,conducting exams, counselling students, parents, teachers, conducting workshops and training teachers.
Ms. Radhika Ramamoorthy
Associate Director - E-Learning Technology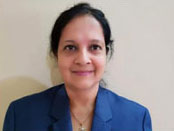 Ms. Radhika Ramamoorthy who has a Masters in English Literature with B.Ed in English and Social Studies and P G Diploma in TEFL/TESOL, has been a dedicated educator for 25 years with teaching experience in CBSE, ICSE and IGCSE schools. Besides being a teacher, she has also been a college lecturer and an able administrator, heading a reputed school in Mumbai for 7 years.She is also adept at conducting workshops on topics like Classroom Management,Value based education, Interactive approach to teaching of English, Teacher Development Programme and E-Learning for Continuous Education.
Ms. Anita Khanna
Associate Director - Curriculum Design and Content Management

Ms. Anita Khanna who has completed her Post Graduation from Delhi University and MEd from Vinayak University, has been a successful educator with an extensive experience of more than 30 years which started with teaching at the pre and primary level. She has prepared and delivered lessons to a range of classes of different ages and capacities with effective classroom management abilities up her sleeve. She eventually switched over to educational administration and had been associated with different