International School Experience Program – Asian College of Teachers
An insight into the program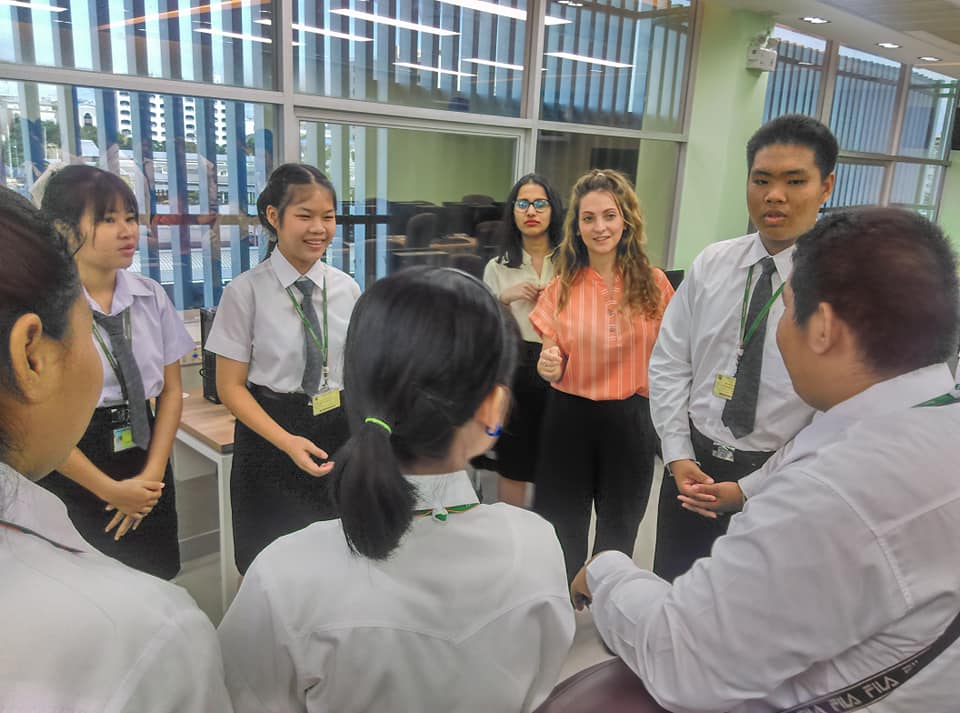 International School Experience Program in Thailand is a customised training program developed for aspiring and working teaching and training professionals by Asian College of Teachers (ACT) to learn the mechanism of Thai education system. A leading name in training and teacher education in Asia, Asian College of Teachers has been in operation since 2007 with over 50,000+ alumni from across the globe.

ACT's International School Experience program is aimed at those who are looking to ensure a flourishing career in teaching and training in Asian countries. As you enrol for the program, you will be required to volunteer and work in local Thai Education projects and internships and experience everything first-hand. This enables you in getting a detailed knowledge of the functioning of the education system in the country and the various teaching approaches practiced there. You will be based in Bangkok, from where you will be escorted to various other places and given educational tours which may also be outside the city.
Why do you need to pay for our School Experience Program?
You need to pay for a volunteering program because for conducting the program, we at ACT do not receive any form of financial aids from government or any religious organisation, therefore, a project fee from our volunteers and interns is required so that we are able to provide for the costs essential to cover the expenditure of the program and provide you with the best possible quality experiences that you deserve. However, we always try our best to keep the fees minimal compared to some of the best volunteer and internship project fees offered throughout Asia.
Features of the program
School visits all along the program, including observation on differentiated, learner friendly instruction and experiential learning.
Opportunity of a lifetime - interact with various educational leaders including the strategies involved in teaching preparation time, and the varied expectations, collegial work, feedback and peer observation.
A chance to visit the various educational institutes and other organisations and attend seminars and other forms of knowledge gatherings in the city of Bangkok.
Knowledge Tour in Thailand – Learn about Thailand
Thailand, a major tourist location for people around the world, is a country that suits the taste of all from 8 to 80. Located in Southeast Asia, the country is situated on the coasts of the Andaman Sea and the Gulf of Thailand. Mouth-watering, pocket friendly street food will excite the foodies; a great climate, fascinating culture, magnificent mountains and wonderful beaches, Thailand has every reason to attract an avid traveller. Bangkok, the capital city of Thailand, is the one of the most visited and busiest tourist destinations in Asia, with a crowd that always seem to be bustling with life and enthusiasm.

Though most of the Thai people only know their language and are not well-conversed in English, this has not at all hampered tourism in the region. The Thais believe in sa-nuk (sense of fun) and live by it all through their life, even spreading it among those visiting and exploring this south-east Asian country. What makes Bangkok all the more inviting is its multi-faceted personality, as the city comprises of megamalls on one side along with 200-year-old village homes on the other.

As you attend our program in Bangkok, you will be escorted various educational institutes and volunteer for projects and various other related jobs and learn about the modern global teaching practices and approaches being practiced in institutions worldwide.
Participation Benefits
International School Experience Program in Thailand for Teaching Professionals by ACT will provide opportunities and exposure to the educationists to learn about the global education practices along with helping them gain experience to the global education scenario. Some of the few benefits of the program are given below:
Eye opening and great learning experience and latest views on the approaches to teaching and learning
Opportunity to explore a teachers' freedom and autonomy over testing and assessing
Provides excellent examples on Integration between Technology, Architecture/Learning environment, human interaction, and on various textbooks
Increased knowledge on the various modern technological used in teaching and learning
Act as a great motivation for innovations in your teaching approaches
This program will enable you to gain significant knowledge on Thai culture and Asian education culture as a whole
Itinerary for your program:
Orientation - about Thai culture, Teaching job, Thai school, Thai students, visa and work permit process
Complementary Dinner or Lunch on the first day
One day trip to "Koh Larn " Pattaya or any other equivalent place
School visit - Secondary-high school level
School visit - Kindergarten
Teaching practice at Thai public school
Workshop - 21st Century teaching
Workshop - Teaching English to Thai Young Learner
Attend Siam Niramit show with dinner or a Cruise dinner on the last day
1 day Teaching Practice session:
As you enrol for our School Experience program, you get the opportunity to attend our Teaching Practice (TP) seesions held in local schools in Thailand. You will be taken to local schools where you will be exposed to various real classroom situations, meet various people in the institute and get the opportunity to practice and brush up on your newly acquired knowledge and skills with them. With such learning experiences you will feel confident to face any kind of circumstances and deal them with ease. In the words of one of our alumni, Rabindranath Mukherjee, "Parents, teachers, and staff participate closely together to create a variety of lively and supportive activities. We believe that by maintaining a warm atmosphere among our own team of teachers, workers, parents and children, the growth of a cultivated community is certain to be developed and sustained."
Course Fee & Date
Interested candidates can avail the program at a fee of 50,000 INR + 18% GST

In addition to the program fee the participants need to pay for airfare, visa (visa on arrival) and insurance as applicable.

Date:
Coming Soon
What is Included in the Course Fee?
Inclusions:
The complete program as indicated in the itinerary
Project co-ordination
3* Hotel Accommodation on a twin share basis (single supplement will be extra at actual)
Meals: Breakfast & Gala Dinner
Transfers as per itinerary
1 full day excursion / sightseeing
Visa Support documents
Exclusions:
Airport pick up and drop off
Cost of visit to the Embassy for the Visa
Your Lunch
Anything not mentioned in the itinerary
Items of personal nature including telephones, laundry, etc.
Notes:
Cost of visit to the Embassy for the Visa & to catch the flight
Veg. & Non Veg. Lunches will be provided on all days, all dinners except the Gala Dinner will be on your own, there are several Indian restaurants & suitable list will be provided
Payment:
50 % at the time of Registration & balance 50 % is to be paid 30 days prior to departure / in case departure is less than 30 days 100% payment will be needed at the time of registration.
Cancellation Charges:
If cancelled 90 days prior to the departure a 10% cancellation charge will be applicable. In all cases a minimum processing fee of Rs 5000 pp will be non - refundable. Visa fees once applied cannot be refunded. If for any reason whatsoever if a visa is rejected or has to be applied again, visa fees will have to be paid for the second time.