How It Works – Asian College of Teachers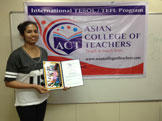 Asian College of Teachers has two kinds of TEFL Course offered in their 'TEFL India' Project for Indians and the native English/ Foreigners. The options available to the TEFL trainees from overseas and local Indians are not different. TEFL trainees can choose to take the course in KOLKATA, KERALA, BANGALORE, MUMBAI and GOA.
TEFL Teacher Training Course Content
Option available for TEFL candidates from overseas (native or near native English skills)
The TESOL course of Asian College of Teachers is for three weeks full time or 120 hours to be more specific. After completing the International TEFL course successfully, the ESL teachers can opt for one of the following :-
One to three months an ESL volunteer internship either in Thailand or in India. During the volunteer internship, accommodations will be given to the teachers free of cost.
The TEFL teachers can opt for paid internships in India, Vietnam and Thailand. In India the paid internship is for three months and in Thailand it is for two months and in Vietnam it varies from 3-6 months. Remunerations given in India to the TEFL trained Native teachers will be Rs.10, 000. Stipend for Thailand and Vietnam will be 300 USD.
Qualifying ESL Teachers can be offered 4-5 months ESL job In Thailand, China, Vietnam and South Korea.
The cost of flight tickets and Visa is the responsibility of the teachers.
Option for Indians only
The Indian students after completing the internationally recognized TEFL course can go for a volunteer internship of one month in Thailand. The cost of accommodation is covered by Asian College of Teachers but the English teachers have to pay for flights and visas themselves.

This internship not only provides them real time teaching experience in a true non native English country, but also gives an insight to the TESOL methods, classroom skills and teaching in an International scenario.
TEFL Course Fee
The fee of the TEFL course in Kolkata, Kerala, Bangalore, Mumbai and Goa is just USD 850 and the accommodation will start from USD 300 for 3 weeks. The candidates can organize for accommodations on their own if they want to.
TEFL Course - What you learn
During the In-class TESOL Certificate course of 120 hours the teachers will be taught all the details of Teaching English To Students Of Other Language , how to teach English as a second language, the language skills required to teach English as second language and also classroom management. During the 120 hours of TESOL course the candidates will also have to do teaching practices in various schools which will give them practical experience of teaching in a classroom.
Completing the TEFL India Course
After completion of the TEFL course, candidates can take up volunteer or paid internships. While teaching as volunteers the teachers may not get any remuneration but they will get the most valuable teaching experience certificate. This experience certificate will be given by both the schools in India or Thailand and the placement partner. With this experience certificate, it will be possible for the teachers to get ESL job placements in all parts of the world.
TEFL Job search support
Asian College of Teachers maintains their own ESL job placement support system:
Local Office in India - The local Indian Center will have a Placement executive to assist in your job search all over India. Helping you make a proper ESL resume, link with local and International ESL teacher recruiters and also place your resume with our Asia Pacific recruitment data bank.
Asia Pacific recruitment bank - This is managed and maintained from Bangkok (Thailand) from where we control the all Asia placement partners, mostly in countries like Thailand, Vietnam, Indonesia, Nepal, China, South Korea and Japan
International Placement support - Our USA office keeps a regular relationship with International Schools and ESL recruiters in the West (USA, Canada, EU and Middle east) - All our TEFL qualified trainees can also avail the support from this division.