TEFL Certificate Course Content – Asian College of Teachers
TESOL, the acronym for teaching English to speakers of other languages, is the flagship product of Asian College of Teachers. TESOL as an internationally accredited teachers training program enjoys a sweeping popularity across the world. Its fundamentals and focus helps in preparing ESL teachers with a special edge. TESOL inculcates within its learners the special techniques of teaching the basic language skills - listening, speaking, reading and writing. TESOL provides a thorough teaching orientation, covering all the possible areas for classroom teaching and student handling.

The ACT TESOL program was developed through years of research and insight from Asia. Combined with this valuable knowledge was their strong determination to restructure TESOL methods in the USA. This was the beginning and has led to ACT's Standard TESOL online and in-class education and job placement system.

120-hour TEFL Certificate Course Content
1. Language Background
The session comprises Grammar and Phonology. Grammar will include awareness of the basics of English Grammar and how to teach Grammar whereas Phonology will cover stress, rhythm, intonation and the speech organs.
2. Learning a Foreign Language
This session will help the trainee understand what helps and hinders the language learning process and what it feels like to be in a language learner's shoes.
3. Teaching Techniques
These sessions will include :
Theatre in the Classroom
Tuning In (Warmers)
Teaching Listening
Context and Language Modelling
Communicative ways
Using Aids (IM)
Teaching Reading
Teaching Young Learners
Teaching Writing
Classroom Management
Looking at Errors
Music in the classroom
Use of games and projects
4. Teaching Observation
Trainees will be expected to observe 2 Teaching Sessions and write reports on them. These will also help them to observe a model lesson before their own teaching practice.
5. Teaching Practice
Teacher trainees will have 6 teaching Practice classes which will be observed by trainers and the trainees given feedback on them. They will also self evaluate and peer evaluate these Teaching Practice classes helping them to reflect on their own teaching and those of others.
TEFL Course Content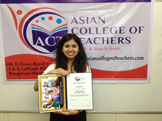 Asian College of Teachers (ACT) is an internationally recognized TEFL teacher training organization with educational quality control mechanisms that ensure ACT trained ESL teachers are of the highest standard. Asian College of Teachers has been training students to teach English overseas for many years.