Combo Packages - TEFL Course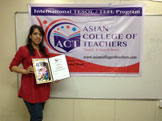 The TEFL Training combo package of Asian College of Teachers gives great opportunity to the English teachers for upgrading their skills and traveling to a foreign destination. The combo package is both for the foreign teachers and the Indian teachers. Anybody with good proficiency in English in English can sign up to this TEFL package.

Combo Package (1500$)
What will the combo package for Foreigners have?
Teach and Travel in India after your TEFL Asian College of Teachers has brought an amazing offer for the English teachers who want to learn, teach and travel in India. After the three weeks of TESOL course, the teachers will be placed in schools for Volunteer Internship in Kerala, Chandigarh and Virudhnagar, Tamil Nadu. This Combo offer is only meant for candidates from Europe, USA, Australia, Latin American Countries, New Zealand, Canada and United Kingdom after successful completion of TEFL Course in India.
Asian College of Teachers will organize three weeks TEFL course in Kolkata or Kerala
The three weeks TESOL course is of 120 hours and certificate given at the end of the course is internationally acclaimed
The candidates will be given paid internship for three months in India. Salary of the teachers will be Rs 10,000 per month along with free accommodation
The candidates during the TESOL course will be taught all the Basic English teaching skills
Accommodation during the TESOL course will be covered by Asian College of Teachers
The trainees during their stay will be provided Non AC Accommodation.
The trainees will be given free airport pick up, free drop at the railway station and transportation to the school from the accommodation free of cost
The teachers after successful completion of the course will be given the certificate on the last day of the course. A farewell lunch party will be organized for the teachers on the last day
Asian College of Teachers will take the students on a tour in a nearby tourist destination on the weekend after the course ends. Accommodation cost and travel is all covered by us
The candidates will then have to travel to the schools where they will have to teach as Volunteer Interns for three months
Accommodation and one meal per day will be covered by the school during their stay
The schools will help the candidates in procuring Visa
The accommodations provided by the schools will be with very basic amenities
Food will be simple Indian food prepared in a hygienic way.
The teachers can travel on the weekends in the nearby tourist spots, while teaching in the school
The Combo Package of Asian College of Teachers is giving this amazing offer of participating in an internationally acclaimed TESOL course followed by the Volunteer Internship in India. The teachers will get a chance to travel around India during their stay here and immerse in the exotic Indian culture.