Eligibility for TEFL/TESOL Certification –
Asian College of Teachers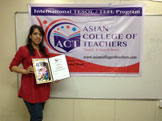 TESOL or TEFL Certification Course is a Three week intensive onsite initial Teacher training course. The course equips you with the skills and techniques required for teaching English to students whose first language is not English. In order to be an English teacher anywhere in the world a TESOL certificate is the first prerequisite. All advertisements for English teachers look for this qualification.
Eligibility for TEFL Certificate Course and ESL Job
We welcome all applications, regardless of sex, age, race or nationality.
Are you just out of university and looking for some excitement in life?
Do you wish to travel to places that you have only read about but don't have the means?
Have you become stagnant in your present job and want a career change?
Have you been a teacher all your life but want to teach in another country or a different set or level of students?
If the answer to any of the above is yes, then the TESOL Course is for you.