Helpful Tips For A Successful Transition To Online Teaching
Are you a teacher who is accustomed to traditional methods of classroom teaching and now trying for a smooth transition to online teaching!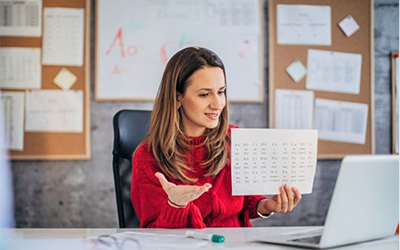 While we are all trying our best to sync with the global transition of a new era, the teaching profession is one of the prime areas which are facing major adjustments to grasp the latest shift. The educational system across the globe is trying its best to navigate through this time besides the presence of challenges.

Additionally, the emergence of technology into the system has only made it prominent enough to embrace the 'new shift' for good. Many teachers, especially ESL teachers are now expanding their horizons in full-time online teaching. Besides, Teaching English Abroad as a Career has become a new highlight.


If you too aspiring for your greatest transition from being a Classroom Teacher to Online Teacher, check this video to know who can be your online learners!


Top 7 Tips for Your Smooth Transition to Become an Online Teacher
1. Up Your Game – You be the Learner First
A teacher's adaptability in the latest shift and changes foretells how successful the transition can be. It is only obvious that the online field is new to you, and it is okay to have a beginner mindset. Decide on what you need to do to perform confidently. These days there are plenty of online resources that can be handy at times. Besides that, if you have the nudge of walking the extra mile, you even go for online courses such as Virtual Online Teaching. Courses like VOLT can assist you in navigating your transition from a classroom teacher to an online teacher in the best possible way.
2. Be Flexible to Try New Avenues of Teaching Methodologies
While classroom setup gives allows us to interact physically, with online we are in need to sustain the same amount of communication and interaction. Surely the same teaching methods will not work in an online setup. However, the integrity of the classroom needs to be maintained.
Unlike classroom teaching, online teaching happens through the digital screen. At times managing time simultaneously while managing each student can be overwhelming. This is why focusing on learner-centered teaching can be useful. For example, encouraging more on:
Self-learning
Students Assignments
Conducting activities by the students
Group Projects
Sharing online reading materials
Can lead to establishing more students' interaction without much hustle.
3. Get Accustomed With the Know How's of Technology
So far if you have used Technology as a tool that is used in several ways to enhance the learning experience, setting up for online teaching and monitoring it won't be much problem for you. Having said that, unpredictable situations are possible everywhere. Adapting to technological skills and being familiarized with quick solutions will be your lifesaver. Also, learning how to use technology as a tool of engagement will lead to a better online classroom environment. Remember your priority must be in creating interactive sessions for your students. Hence, instead of treating technology as an unknown medium, think of it as an ally in your online classroom.
4. Re-Think on Break Times
In an online class, the presence of screen time can drain a lot of energy. Constantly staring at the screen also impacts our health. Hence it is integral for you to plan the session in a way that includes plenty of breathable moments. Apart from taking breaks between classes, you can organize screen activities that have more room for hands-on activity and brainstorming sessions. The core idea of taking a class is to enable learner's skill improvement and autonomy within them and you need to conduct classes that have more scope of exploration rather than listening to the lecture.
5. Promote Students Engagement
One of the biggest challenges in an online classroom setup is to keep learners engaged throughout the session. The lack of physical presence and proximity may leave a feeling of disconnection. This is the reason why you need to emphasize on the first day introduction where each learner will feel welcomed and comfortable. Also, the online classroom is more open to diversity. It is a means to bring multi-cultured individuals into a single classroom. Instead of getting bogged down by the differences, use this as an element of expansion. Help your learner in supporting each other. Furthermore, engage the student in form of group discussion and group presentation. Our learners are so much innovative than we expect them to be. Facilitating those skills within students should be the primary goal.
6. Make Assessment the Key to Reflection
When you are new to an online classroom, keep notes on your progress what challenges you faced and how you have overcome those barriers. This is crucial for your development. Having clarity on what's going on in class and how you can achieve your objectives will contribute to more meaningful engagement and enhance the online learning experience both for you and your students.
7. Don't be Shy – Ask Students for Feedback
Your students are the receiver to your teaching. Nobody else can give you the exact picture of how effective your performance is! Forget about the teacher-student hierarchy and ask for your learner to give feedback. This way you will get first-hand reactions and your students will feel their opinion too matters – which is another form of inclusiveness. To begin with, ask these questions at the end of the session:
How was the experience?
Which part of the lesson did you enjoy the most?
What are the things that need more improvement?
What would you do differently if you were in my position?
Feedbacks are one way of communication. Taking feedback constructively will certainly guide you to improve your skills.

Above all, have fun! Don't forget to be patient and allow yourself the time for transition. If you are passionate enough to make this happen, you will adapt to the new pace. Teaching English has already made its mark on the global platforms and the credit goes to 'technology' itself. Being a teacher focusing on technical expertise must come next to your zeal for teaching. As a 21st century teacher, you have already crossed half-way.

If you want to prepare to bring forth the best in you doing a training course can be a smart move. Teaching English certificate programs, such as TEFL Course can assist you to become flexible with the practical approach to 21st-century teaching.