It Is Time For Teaching English In Poland: An Ultimate Guide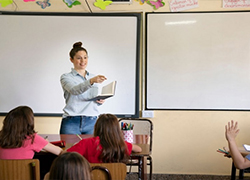 One of the most fascinating job markets across the globe is teaching English as a foreign language. Apart from countries where English is the native language, there is a huge career opportunity of teaching English. Qualified teachers from various nations are grabbing this chance. It is because teaching English to speakers whose native language is not English, is now stealing the limelight.

But for that, a TEFL certification is a must!
What is a TEFL Certification?
A TEFL-qualified teacher is one of the best-suited candidates for this prospect. TEFL certification (Teaching English as a Foreign Language) is the ultimate key that a candidate will require to teach the English language to non-English speakers. ESL teaching (English as a Second Language) provides a significant teaching experience to the educators.

The Republic of Poland encourages education from the core of the segment to a great extent. English is one of the major foreign languages that is being emphasized by the government. To teach English in Poland as a foreign language, TEFL courses are of most notable help. Cities like Warsaw, Poznan, Wroclaw, Gdansk, and Krakow are now providing the right set of circumstances for such a brilliant career option.

A TEFL training is a mandatory eligibility criterion for the tutors who are willing to practice teaching English in Poland. A candidate, along with a TEFL certificate, if possesses a college degree of 4 years will get more preference.

A college degree is not a compulsory factor. There is always a huge demand for English teachers in Poland. Hence, the job market in this area is never doomed. Tutors from across the globe have the opportunity of pursuing a TEFL course comfortably from staying at home. There are various online TEFL classes that are easily available at a minimal cost. The biggest relief is that those certificates are accredited by the topmost relevant organizations. Hence, the value of the certificates is highly authentic and admired throughout the whole world.
ESL Teaching in Poland:
The Poland government has made learning a foreign language one of the compulsory parts of elementary schooling. Almost 40% of the population in Poland speaks English. Americans and educators from non-European countries having the mentioned eligibility criteria can apply for teaching English in Poland online.

The teaching contracts begin mostly in the month of September or October and continue till late January. Tutors who love spending time with the students during the summer can apply for the summer English Language camps. Schools in Poland organize such camps throughout the whole summer. They become active between the end of June and the beginning of July.

Learning English as a second language is prevailing almost in all the educational institutions across whole Poland. Therefore, Poland is always in need of TEFL-qualified teachers. There are cases where some schools have sponsored visas for teachers having American or non-European nationalities. Teachers must have residential permission once they arrive.

It is always recommended that teachers should not work as English teachers using a tourist visa.
Cost of living in Poland:
The development of Poland's economy is progressing at a decent pace. Consequently, the cost of living in Poland is much lower than that of the American or some other European countries. High school students often get discounts in multiple sectors.

The overall monthly expenditure in Poland is within 500 USD. It includes most of the primary segments like food, accommodation, and transportation cost. The average salary of a teacher in Poland is 750-1050 USD. Thus, choosing to teach English as a foreign language in Poland is absolutely spot on!

Spending life as a teacher in Poland is just like a walk in the Park. They have to spend 20-30 hours on average per week at school. Thus the remaining time can be easily utilized by exploring the cities and some beautiful travel destinations.
Teaching English in a summer camp in Poland:
This is actually a win-win scenario. Well, every language is special and knowledge has no barriers. The summer camps are based on interesting fun-based learning activities. The non-English speaking students learn the English language and the teachers get to know several Polish terms and phrases from the students.

There are certain things that a TEFL qualified teacher must be aware of before joining the summer camps. The Polish culture, food habits, way of communication, and the Dos and Don'ts in Poland. these will be of immense help to the educators. Some basic Polish phrases for communicating should be learned before stepping into these camps.

Apart from summer camps, multiple renowned academic institutions offer a career opportunity in teaching English as a foreign language in Poland. It is always wise to participate with the people who are a part of the summer camp. The more the teachers engage themselves with the natives, the better will the course of the time they're spending there.
Conclusion:
Teaching in Poland is one of the greatest experiences one can have. The students are extremely cordial and supportive. English is the most used language in the whole world. Therefore, speakers of other languages will receive potential benefits from learning English. All you need is a TEFL certification.

The overseas teaching program is similar to a cross-cultural event. Students more or less know a basic conversational level of the English language in Poland but the game does not end here. That is why it becomes a grave responsibility of an English educator to make them feel comfortable and smooth in English. The teacher in return learns a lot about the Polish culture and a bit of their language.