Tips On Last-Minute ESL Lesson Plans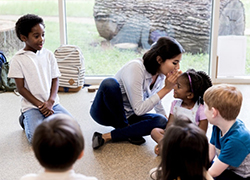 Running at a situation from time to time where you need to rely on last-minute ESL Lesson Plans is very common. Each class and the pace of the student are different. Which is why having few ESL activities in your pocket is a smart choice.

One major reason as to why you need to have a few adaptive last-minute ESL lesson plan is classroom does not always flow according to plan. And yes you cannot control everything that happens with the four walls of the classroom. So, tackling those moments with preparation brings ease to deliver lessons in unpredictable situations.
3 Simple ways you can manage Last-Minute ESL activities to keep up with the pace –
Be Goal-Oriented

After following a lesson when it comes to wrapping up and time is running out, think of what you want your students to learn from the lesson. Being goal-oriented from where you are at present and what result you want can really get you a sneak pick of the core objective of the lesson. Once you establish that, you can choose an activity based on the time you have in your hand.
Use Adaptive Lessons

Have a few adaptive lesson plans that can be used in any content or subject matter. Adaptive lessons are the ones that fit right with the context. ESL Lesson Plans can be prepared with flexibility, which is an essential part of the learning for many TEFLers.
Learn to Recycle

There is nothing wrong with repeating activities in the classroom. Creating ESL lessons from scratch can be a job as and when needed. Try keeping a few go-to lesson plans that can be used with multiple topics. Memory games, Bingo with vocabulary words, and Tic-Tac-Toe with grammar are a few classic examples of that.
Here are 3 ESL activities you can play with –
1. Pictionary

Pictionary is a well-known adaptive and effective ESL activity that can be handy all the time. It can be easily played with the team. This is a guessing game where learners will be divided into teams, the teacher will show a picture of a target vocabulary word and they are simply going to guess the words until they figure it out.
2. Shark Tank

Another fun yet very flexible game for ESL learners is Shark Tank. The teacher is going to draw downward stairs on the board. Then shout "AHHHHH...a monster!" and then draw a monster on the bottom. Now each team is going to guess the hidden vocabulary word and if they miss, they are going to move one step down towards the monster.
3. Telephone Race

Another team ESL game, in telephone race. Ask your learner to form a line, and then with mild voice say a target word/sentence to the first person in each line. The learner is going to run towards the line and whisper the same to the next person, and continue with the next person. The team who completes this first and says the line or word wins.
Final words

Time adjustment can get tricky. If you are in a situation and notice that specific activity is flying by, embed one quick and playful activity into the lesson right then. Whether you are working as an online educator or Teach English Abroad with an ESL certification, as an ESL teacher it is essential to be prepared for such shifts and changes now and then. Plus, the internet has become a wonderful place to leverage on. Ready-made lessons plans are available on many platforms, though keep in mind to put your best the authentic version of yourself as the teacher.