Teach Online While Traveling The World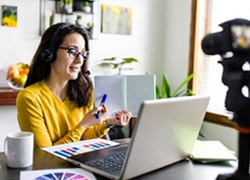 For many of us, the moment we hear about traveling the world, our eyes start to glow. What better life to live than to explore the world – isn't it! As we know there are some obvious perks of teaching English online and living a nomad life being the one, the convenience of earning money on the move is something to be thrilled about. Plus the flexible teaching hours can give you the opportunity to enjoy the place you will be in.

But we all know it can't be so simple, before venturing into the quest of world travel, we need to mindfully calculate our moves and plan how we are going to hop places and keep things in line. The number one challenge for traveling and teaching online can be the time difference.One thing you should keep in mind is not to keep any class on the day you are supposed to travel. There are many complications that are predictable; for starters, flight delays and canceled flights are way too common. Hence, your travel date must be an off day for you.
Now let's look at a few more important things you need to consider while planning your nomad life –
Reliable Internet Connection
Your entire job depends on the internet connection. This is one thing that has to be impeccable and on point. The speed and the clarity of your internet must always be effective. Also, having backup internet access to cover the emergency situation. We know that internet connection is heavily dependent on the service provider and the location, so make sure you have done your work on knowing what works best in your destination. While hotels may have a WI-FI facility it is better to not depend on it and rather have your own internet. All in all, prep how you are going to manage high-speed internet connections way before your reach there.
Carry Your Tech Tools And Teaching Props
Starting from your laptop to headset, webcam and also if you use light for your online sessions, carry them always. Bear in mind the more light your equipment is the easier it will be for you. Besides, the basic tools that you use for your teaching keep them handy. And always keep your resources stored on the cloud to travel light. carry only the basics and rest keep them in saved in your laptop; you can download them as you need.
Online Payment Options
Keep your payment facility online. Your platform such as PayPal, Apple pay, Google pay handy. It gets easy for both you and your clients to make transactions easily accessible.
Be A Minimalist
A nomad life will also require you to be a minimalist in what you carry. At any cost, you cannot keep hoarding things. Pack light, have things that you use and are essential to you. a lot of the time this may be a learning lesson and you will find yourself entirely transformed once you get into the digital nomad life. While having essential teaching tools and tech tools are essential try to travel light as much as possible for teaching English online while traveling.
Your Takeaway
Of course, there are some roadblocks to leading a life of digital nomad life as an online English teacher and it is certainly not for everyone. But those who feel it is their call to take the leap and travel while they teach, teaching English online with TEFL courses can be their dream fulfilling life path. Yes, there are things you need to consider before you start traveling, it would be misleading not to mention the challenges to this kind of lifestyle, undoubtedly, and there are some occupational hazards too. Nonetheless, your efforts can lead to creating ever-lasting memories with adventures from around the world, and perhaps this can be even your life-changing move.