Teaching English in Spain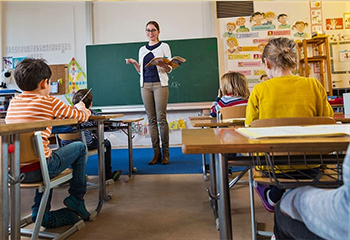 For the past few years, Spain has always been one of the most popular destinations for foreigners to teach English abroad. The 2020-2021 school year has started in public schools in Spain. Spain has an extremely high demand for qualified and skilled English teachers along with its affordable cost of living. Moreover, another good news is numerous ESL teaching positions do hire teachers with TEFL/TESOL certification only and do not require a degree.

English teaching jobs in Spain is the perfect way to gain experience in EFL/ESL teaching sector. With the vibrant Spanish lifestyle, you'll also be able to discover a teaching experience that's just right for your long term TEFL career to teach Spanish learners.


What are the qualifications to teach English in Spain?

Like any other country, TEFL recruiters of Spain also have certain requirements for ambitious English teachers that must be met before they can land a job. You have to be confident and highly skilled in the English language as an ESL teaching professional. This means you need to have native-like fluency in the language to be an ESL teacher in Spain. Also, you need to be aged 60 or under.

Is a degree necessary? Fortunately, Spain has a lot of career options for teaching English jobs, depending on your level of education. Also, there are a variety of volunteer programs that don't have higher education as a mandate. It would be better to have some teaching experience prior, though.

What about a TEFL Certification? It is highly recommended to grab a decent job. TEFL certificate would teach you numerous skills that would help you in the classroom — especially if you have no prior teaching experience. It also boosts your CV and teaches you how to deliver a perfect ESL lesson along with other aspects.

Teaching English jobs in Spain do not cover the costs of getting a visa. Though you certainly do not need to know Spanish to teach English but knowing some basic Spanish will be supportive to get around town, especially the smaller ones. Unless you're a citizen of the E.U., most English teachers arrive in Spain on a 90-day tourist visa. Spain has one other option for aspiring English teachers - the student visa that allows you to stay and teach for 6 to 9 months.
Need to Know
Here are some insider guidelines for teaching English in Spain –
Topmost hiring begins in mid-September or October
Indeed or Infojobs are the 2 major websites that publicize teaching English jobs in schools and academies
The major types of English teaching jobs in Spain are - Language Assistant, Private Schools, Volunteer Teaching, Private Tutoring, Au Pairing, Cultural Assistant, etc.
If you have a restricted time frame, volunteer teaching might be your best selection
The cost of living is higher in big cities like Barcelona and Madrid
Make sure to have some money as the recruiters do not cover the costs of getting a visa
To obtain a visa, you will need – a letter of acceptance, a clean criminal record along with proof of financial means
Valencia and Seville are other popular cities for English teachers
Regions such as Andalucia or País Vasco are also a good option to experience Spanish culture
Government teaching program in Spain –
1. Meddeas- Language Assistant.
2. BEDA Program: Language Assistant
3. UCETAM-Language Assistant.
4. UP International Education-Language Assistant
5. Conversa Spain-Language Assistant
6. Fulbright Spain-Teaching Assistant

Living in Spain
Spain is not only a gorgeous beach destination but also the country has rich cultural and geographic multiplicity. Spain is a very sought-after destination for its comfortable lifestyle and approachable people. Parliamentary constitutional monarchy is their government structure and is the second-largest country in the EU. Do you know the country is home to 44 UNESCO World Heritage Sites? Well, the rented houses are low-priced compared to hotels. Hostels can also be inexpensive too.

Getting a teaching English job in Spain takes a lot of planning. In today's world, you can at all times upsurge your earnings with paid teaching hours by teaching English online. The country was hit by an economic emergency in 2008, which has become known as the Great Spanish Depression. However, with time they have moved on and learning English has become progressively popular.